Remarkable features :
1 Strong corrosion resistant . The part where the pump and liquid connect all adopt 1Gr18Ni9Ti and corrosion resistant rubber.
2 Fine self-suction ability ,fast speed .It can sorb 7 meter deep liquid when the machine opened ,not like centrifugal pump that need filling water.
3 Wide transport range. It can transport the liquid that contain soild , gas(as bubble liquid ) and the liquid with some viscosity ( max viscosity] is 50*10 square meter/sec), not like the gear pump that cann't transport the liquid contain soild , and also not like the centrifugal pump that cann't transport liquid contain gas and the liquid,so the pump can transport the sensitive liquid and keep component of liquid .
4 Fine safety. because of the impeller is flexibility,turn off the the exit of the valve , the liquid will automatically cycle in the pump , so the check valve ,safe valve are all neglected, and it can be equipped with the flameproof electric machinery.
5 Easy to install and move .Set two pipes ,it can transport liquid , and has the feature of two-side moving , the direction of electric machinery changing means the entrance changed. It has light weight , small cubage , convenience moving .
6 Wash fast. open up the cover board then take impeller, wash cleanly ,carefully take down entrance pipe, is the pump that has least trouble and convenient maintance .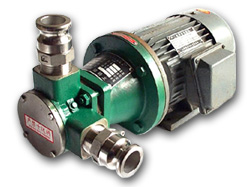 PZ series